»

good news
good links
October 2010: National Geographic launches Cook-Wise. Join chef and conservationist Barton Seaver in a new series exploring sustainability, community, and environmental concerns as they relate to one of the world's most common rituals—dinner.
http://ocean.nationalgeographic.com/ocean/cook-wise
Follow Seaver—a National Geographic fellow—as he goes on location to meet fishermen, farmers, and scientists working to bring sustainable food to the dinner table. In each episode, learn how a specific ingredient can make a difference to the health of our blue planet, and meet the communities and individuals at the heart of the food supply.
Watch their compelling stories, followed up with simple recipes and cooking tips, and be inspired to take action when planning your next meal.
Cook-Wise is Produced and Directed by Good Egg Media, graphics by Three of Change, threeofchange.com in coordination with anemonedesign.com , title music by Burleigh Seaver
---
October 2010: News segment on Good Morning America, "Training Videos, How to Spot Terror" features the DHS Video: "No Reservations: Suspicious Behavior in Hotels" produced and directed by Erin McCahill http://abcnews.go.com/GMA
---
April 2010: Cooking Light Magazine Featuring Barton Seaver
---
November 2009: Esquire Magazine: Chef of the Year Barton Seaver, Blue Ridge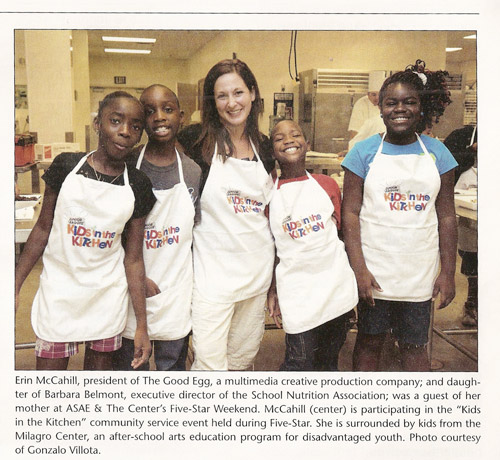 ---
March 2010: Erin McCahill, presented with an award from the Director of the Partnership and Outreach Division, U.S. Department of Homeland Security for videos produced to create a high-visibility campaign for Critical Infrastructure Protection Month. "The comprehensive coordinated Infrastructure Protection effort set a new standard for DHS awareness campaigns and increased the visibility of CIKR programs across the department."
---
February 2010: Erin McCahill, presented with an award from the Assistant Secretary for Infrastructure Protection, U.S. Department of Homeland Security. The award was given for the Retail Video and, "the exceptional support to the Critical Infrastructure Protection mission through an unprecedented coordination effort, product development and the creation of a video that directly improved IP's information sharing protocols with the private sector, DHS and other Federal agencies."